Extra Curricular Activities
The curriculum is supported by an extensive extra-curricular programme which allows skills acquired in other areas of interest to complement students' academic studies. The school has a long standing tradition of a varied extra-curricular offer, particularly in a wide range of sports and performing arts. Pupils can choose from the range of clubs and societies below which enriches the learning experience of pupils.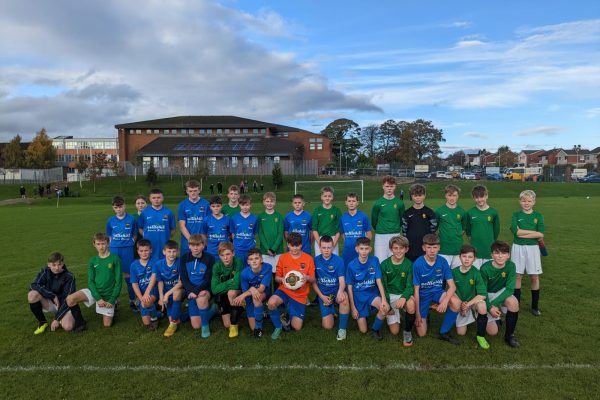 The Irish FA has put an emphasis on the enhancement of schools' football across Northern Ireland through the new sports programme 'Let Them Play'. We believe that the development of schools infrastructure and the collaboration with the Northern Ireland Schools' Football Association are essential for football development.
The School Quality Mark is a new initiative provided by the Irish FA that aims to enhance and improve schools' football at both primary and post primary level. As part of the Irish FA 'Let Them Play' strategy, the School Quality Mark provides schools with the guidance to implement structures to build capacity and allow football to flourish. Schools will have the opportunity to enter the accreditation at three different levels, Bronze, Silver and Gold, depending on the structures already in place. 
Some of the key areas that are set out in the accreditation are school governance and management, further games development, duty of care and female participation. School/club links will also form a major part of the School Quality Mark as it is key for pupils to be given a pathway from schools to local club football.
We are the only IFA GOLD AWARD school in Lisburn and only 1 of 8 in NI. 
Football for Boys
After school football runs every Wednesday from September to April from 3.15 – 4.30. We have teams from U12 – U18 competing in Lisburn League, Belfast and N Ireland Cups. We are the only IFA GOLD AWARD FOOTBALL School in Lisburn
Football for Girls
After school Girls Football runs every Thursday from September to March from 3.15 – 4.15. We have girls' teams from U12 – U18 and we compete in Lisburn tournaments and the N Ireland Cups.
Hockey
The mixed hockey club  is open to pupils in Year 8 -10 where the pupils compete in a mixed inter-schools Lisburn tournament at the end of the 6 weeks of coaching.
Netball
The girls netball club have 4 teams who regularly compete in the Lisburn Development League and the NI League
Rugby
The PE department run extra-curricular rugby with teams competing regularly against other schools in Lisburn and Castlereagh. Full contact rugby runs from September through to April and mixed tag rugby runs in the summer term. We have a Year 8 and Year 9 team.
Basketball
Basketball is open to all pupils in Years 8-10, we work on developing fundamentals and place an emphasis on teamwork and enjoyment. Our basketball team's compete in tournaments organised by the Northern Ireland Cleveland International Basketball Academy (NICIBA) as well as friendlies against schools in the Lisburn and Belfast area. Our Year 8 girls were crowned champions of the 2022 NICIBA inaugural tournament.
Running Club
The running club is open to all pupils in Year 8 – 14 and takes place in Terms 1 and 3. The club welcomes runners of all ability and the primary focus is on health and enjoyment.
Swimming
Pupils will participate in swimming during PE lessons in junior school. The College also competes in the Ulster Secondary Schools Gala on an annual basis.
Trips
We offer 3 trips per year.
Football tour goes annually to Valencia for Yr8-10 pupils
Netball tour goes to either England or Scotland for Yr8-10 pupils
Senior Football tour goes to Scotland for our U18 team
Art Club
The Art Department run an exciting variety of workshop based art clubs throughout the year. Some of these are seasonal and others are just for fun where pupils can develop skills that they have a personal interest in. We try to use techniques and processes that build on classroom based tasks to allow the artist within to flourish.
Drama
Laurelhill Community College has a strong tradition of music and drama, the annual public performance being one of its highlights. Pupils at Laurelhill will develop personally and socially through Drama in the classroom or on the main stage. Involvement in Drama at whatever level helps to encourage pupils to use their creative skills to work together towards performance while boosting self-confidence and self-esteem. Theatre trips and workshops are offered to our pupils throughout the academic year and this develops and enriches their experience of Drama.
College Band
College Band welcomes pupils from Years 8 – 14 who play an instrument where the minimum standard required is Grade 1 in the chosen instrument. The College Band performs at many school events including the Carol Service and the Spring Concert.
Year 8 Choir
Year 8 Choir meets at lunch-time to rehearse for upcoming events.  The Year 8 Choir perform at the Carol Service and the Spring Concert. 
Junior Choir
Junior Choir is open to all pupils in Years 9 – 10. The Junior Choir perform at a number of school events during the academic year including the Carol Service and the Spring Concert.
Music Theory Group
Music Theory Group meets in order for pupils to gain public examinations in the Theory of Music. This qualification is required for pupils who wish to pursue to the higher graded examinations of Grades 6 – 8 on their instruments.
Production Band
The Production Band is a group of pupils who come together to provide quality music for the annual college musical production. Pupils who perform at the production are accompanying the live on-stage action.
Senior Choir
Senior Choir is open to all pupils in Years 11 – 14. The Senior Choir is well respected in the community and represents the College in many events both inside and outside of school.
Various groups meet in Term 2 to rehearse for performances at the Spring Concert.  These can include Ukulele Group, The Boomwhackers, the Hand Bell Group, the Barbershop Group, Rock Band and African Drumming.
Combined Cadet Force
The aim of the CCF is to 'provide a disciplined organization in a school so that pupils may develop powers of leadership by means of training to promote the qualities of responsibility, self-reliance, resourcefulness, endurance and perseverance'
Mindfulness Garden
The Mindfulness Garden team meets during Autumn and Sprint to develop and maintain the school courtyard, pruning and planting to make the area a haven for wildlife. A range of plants are grown. The garden is a reflective and quiet space for students at lunch times during the summer term.
Brighter Minds
Brighter Minds was formed in 2020 by a group of sixth form students who were passionate about raising awareness of mental health issues impacting teenagers. The team have grown in strength over the past two years and have completed various charity fundraising events in college. Every year they start their charity work on World Mental Health Day in October. This year students from Year 11 and 12 have joined the team and we have various groups in school who arrange activities and events in college to improve the mental health and wellbeing of all. This year we have also started a 'Walk and Talk' group in conjunction with the PTFA. The Brighter Minds team have also spearheaded the development of the 'Mindfulness Garden'. We look forward to watching this group evolve and develop for the benefit of all in our school community.
Numeracy Club
The Year 8 Numeracy Club meets during lunchtime on Wednesdays. Each time they meet the pupils get a chance to develop their skills in mental maths through playing fun and interactive games.
Cookery Club
Laurelhill's Cookery Club offers KS3 pupils the opportunity to practice their basic cooking skills through a range of both sweet and savoury recipes. It is a fun and laid-back environment were pupils have the chance to build new friendships throughout the school with the bonus of food tasting each week. 
Scripture Union
Scripture Union is a time of fellowship and friendship for our pupils. We have a varied programme of guest speakers including past pupils and organisations such as Exodus, Scripture Union and LMI. Our pupils have been able to attend an SU weekend organised by Exodus with other pupils in schools across Lisburn.  Everyone is very welcome to attend. "Where two or three are gathered in my name, there I am in the midst." – Matthew 18:20
Student Voice
Student Voice is led by the Student Voice Leadership Team (SVLT), which is made up of elected sixth form representatives. The SVLT team lead the Student Council meetings that are made up of representatives from every class with a total of approximately sixty students on the council.
Technical Production
The Technical Production Team meets on a weekly basis during Term 1 and 2. Pupils learn how to design lighting sequences and stage sound mixes for stage production. Skills are also developed in recording and producing video sequences for school publicity.
Lego Club 
LEGO club meets on Wednesdays after school. We enjoy building and chatting about all things LEGO. Some of us work together on a build and we have plans to expand out LEGO collection and work with some LEGO robotics in future.
Chess Club 
Students and staff meet in B6 to learn and play chess. As our best player says, "There's no losing in chess..only learning!"  We have fun and play two or three quick games each. The room is never quiet, there is constant chat about the next move. All are welcome.